Handpieces are one of the most common parts of a laser machine that require repair and we have vast experience in everything from lamp and diode replacement to changing the shell covers.
Laser Tech's certified technicians are able to identify and repair hand pieces from Alma, Candela, Cutera, Lumenis, Palomar, Syneron and many more, almost always in the same day. We use OEM replacement parts, meaning that your handpiece will not only be repaired, but brought back to its original factory performance.
Most Common Hand Piece Problems
There are several issues that are common with hand pieces which the team at Laser Tech can expertly repair, including:
Cooling system faults

Water leaking

Triggers

Old / Cracked lamps

Cavities need to be replaced

Bad crystal

Bad fiber

Broken shell cover

Bad diode

Low energy
If you are facing any of these issues, you can simply send us the handpiece overnight and our technicians will be able to replace the malfunctioning part and return it to you in the same day. This means that you will not miss out of any business, so that you can keep your practice running efficiently and prevent costly cancellations.
As with all of our laser part repair services, we offer a 90 Day Warranty on both the replacement part and the labor that we provide you when fixing your hand pieces.
Simply just fill out the form on the right and we will get back to you with all the information ->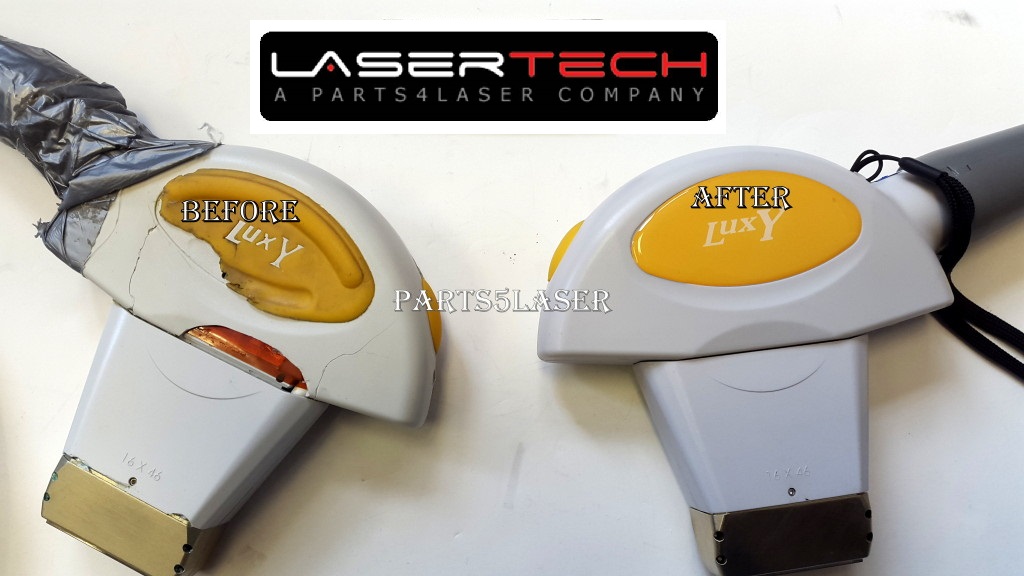 Here is some of the hand pieces that we can provide full service and repair:
Palomar IPL -IPL-Lux Y | Lux Ys | Lux R | Lux Rs | Lux G | Lux V | Starlux ICON | Starlux 300 | Starlux 500 | Medilux | EsteLux | 1064 YAG | 1540 Fractional
Alma Laser IPL – Harmony XL | Soprano XL | High Power 2940 Pixel | Lovely | Lovely II | AFT-420 | AFT-540 | AFT-570 | AFT-650 | SST | SHR
Cutera – Prowave 770 | Limelight | Titan XL | Titan V | OPS 600 | LP560 | AcuTip 500 for the Xeo & Solera laser systems.
Lumenis – Lumenis One IPL and YAG | Epilight | New Style Epilight | SR | Quantum – 560nm | 590nm | 640nm, 695nm | 755nm for the Quantum SR/DL/HR | Vasculight & Epilight laser | Aestilight | D-Lite | ClearLight |
Syneron -Syneron HR | Syneron SRA | Syneron DS | Syneron ST (Refirme) | Syneron Comet Diode-Clear Preventive Maintenance Error.
Sciton– BBL- ND:YAG Laser Head | Erbium: YAG Laser Head
LaserTech is not affiliated, associated, authorized, endorsed by, or in any way officially connected with any equipment manufacturer or their affiliates. Any logos and trademarks of third parties that may be found on our website are registered trademarks of their respective owners. The use of any trademark is for identification and reference purposes only and does not imply any association with the trademark holder.